Quality System


In order to respond the brewers' needs, COMPTOIR AGRICOLE built its quality system on an continuous improvement association will all the actors of our cooperative.
Certification
Alsace hops are produced in conformity with EC Regulation n° 1850/2006, which ensures high quality and full traceability, from the field to the brewery.
Environmentally sound farming
Each land parcel is required to be registered with France AGRIMER, which guarantees the purity of the variety and a contract between the producer and COMPTOIR AGRICOLE.
The technical team of the cooperative inspects the hops on a regular basis throughout the growth period (from planting to harvest). Each farming operation is recorded, which ensures good quality practices from the outset. Alsace hops are cultivated using environmentally sound methods.
Each grower's production is rigorously checked at harvest, and when the production arrives at the cooperative facilities in Brumath (67). An inspection is carried out by the cooperative team and by official inspectors from France AGRIMER. Every delivery from a grower corresponds to a specific land parcel, and therefore a specific variety, and it receives a lot number, and a package number. The quality of the production is determined based on the criteria of drying, color, cleanliness and absence of disease.
Full traceability
The lot number that is assigned to each delivery becomes the key to full traceability, and makes it easy to link the product sold to the land parcel where the hops were grown.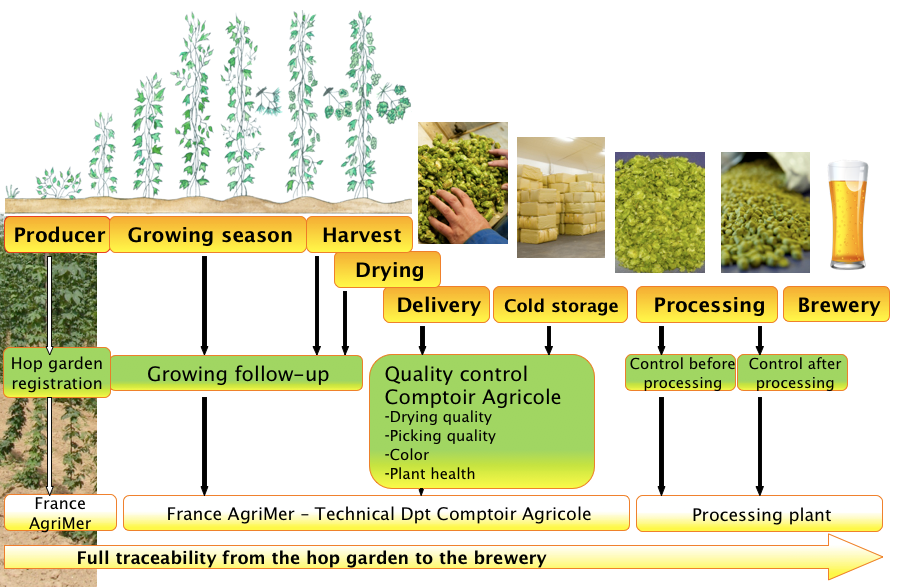 Come and audit us
COMPTOIR AGRICOLE is keen to listen to our brewer clients, and invites them to audit us.
Certification
COMPTOIR AGRICOLE has obtained a number of certificates which correspond to the needs of our brewer clients, and guarantees the quality of the products that are supplied to them: